Donate now and support the transformation of climate policy
The CCPI exists to monitor global climate protection efforts. We work to deliver scientifically sound overviews of these efforts to the public, media, and decision-makers. We do this with the aims of creating transparency and providing reliable facts to exert pressure so that governments take action.
The CCPI must remain independent. We depend on donations and grants for our work. Your donation helps us to increase demands and expectations placed on climate policy around the world. Together, we can initiate a breakthrough in climate action. Show your personal commitment to climate protection now and donate to the CCPI.
With your help, the CCPI can:
Increase international competition for climate breakthroughs
Exert political pressure on climate laggards
Enhance worldwide media coverage of climate issues
Produce knowledge for climate science
Deliver substantiated, independent arguments for climate protection
Thank you for your support!
CCPI in the media
CCPI media coverage: Australian Prime Minister losing his poise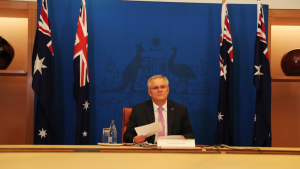 In view of Australia's dreadful ranking in CCPI 2020, Prime Minister Scott Morrison publicly ranted about the CCPI. We report on the incident that transpired on Twitter. The response in international media outlets was immense, and clearly on the side of climate protectionists. Pressure on Australia's climate policy is steadily growing. Please donate and help us to continue to have this type of impact.