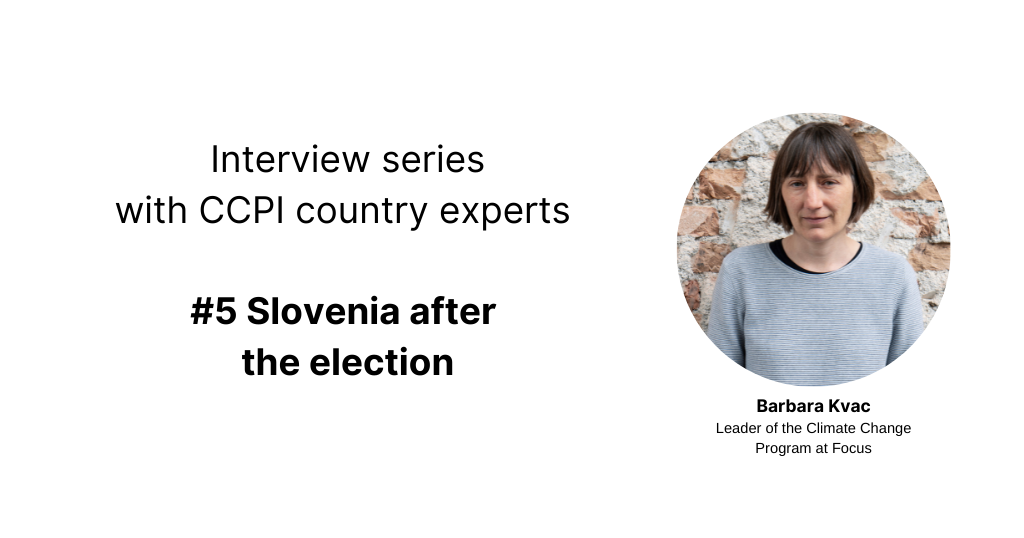 Interview with Barbara Kvac
Slovenia voted for a new parliament on the 24th of April 2022. We asked our CCPI experts which importance the election results have for climate policy, as the upcoming decade is essential to combat climate change and decisive climate action is needed.
What is your general perception of the election results? 
The election results bring the change that people hoped for during the last two years. It is expected that political pressure on civil society, media and democratic institutions will end. The coalition government that will be formed in the coming weeks will have comfortable majority in the parliament.
What is the significance of the election result in terms of climate policy? What are expectations on the new government?
For the first time ever in the Slovenian parliamentary elections, climate change, combined, of course with the current energy crisis is adressed on several of the political parties agenda. All three potential coalition parties (Freedom Movement – the winner, Social democrats and the Left) promised ambitious climate action. The incoming Prime Minister promised to work closly with civil society to address the challenges we are facing. More action is expected in the field of renewable energy, specifically in solar energy projects.
Slovenia ranks 50th in the latest edition of the CCPI 2022. What short-term measures should the next government implement to improve the country's ranking? What are three key demands?
The new government shoud start the revision process of the National Energy and Climate Plan (NECP) as soon as possible and adjust national targets, policies and measures to be in line with Paris Agreement goals.
Create favourable conditions for decentralised renewable energy projects and step up the measures in the transport sector.
Direct available funding (European and national) into priority climate measures, such as electricity distribution network, sustainable transport (e.g. rails and public transport system), buildings renovations etc.
What are the biggest climate policy challenges for your country until 2030?
Closing existing coal power plants by 2030 and ensuring a just transition; curbing the transport emissions and increasing the share of solar and wind energy in the energy mix, decarbonising energy intensive industry. Also energy poverty is a concern that requires systemic changes.
Which developments in your country make you hopeful?
It is hopeful that new coalition is likely to take climate change more seriously and make climate action a priority. Also, promised cooperation with civil society gives hopes.
→ Find more interviews with our CCPI experts here.